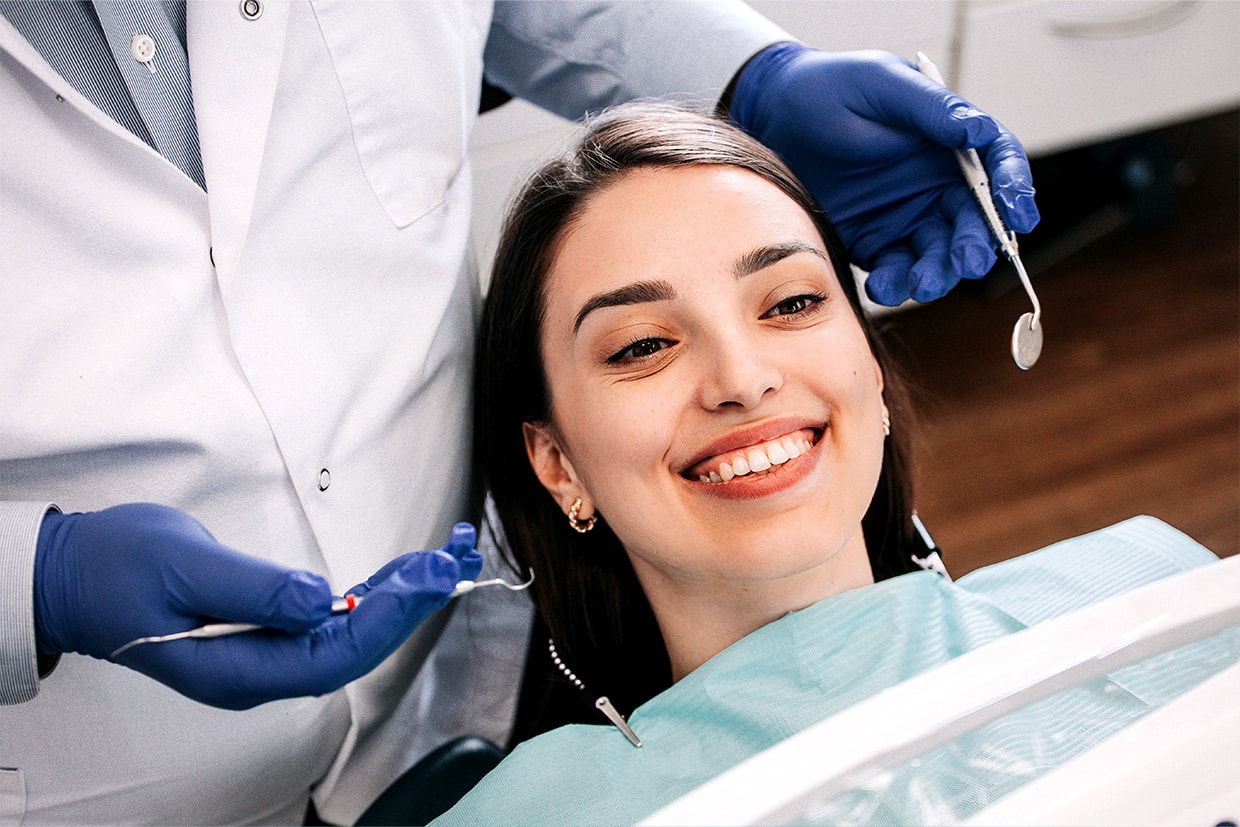 When looking for a dental clinic in Saint-François, you might realize choices are pretty limited and that the dental offices you find offer you limited services. Hopefully, not that far away along highway 440, you can find Centre dentaire Birca, offering you all the dental services you will ever need.
Being located right in the heart of Laval Island, our dental centre can easily be reached in less than 20 minutes from any location on the island, including Saint-François, of course. At our clinic, you will find qualified personnel focused on your comfort and treatment. We use the latest technology to serve you quickly and efficiently.
We offer you a wide range of specialties, including a variety of cosmetic services we will discuss in this article.
Our Clinic
Our clinic is located in the heart of Laval Island, at the junction of highways 15 and 440. Which means you can easily reach us through highway 440 in about 15 minutes or 20 minutes. Once arrived, you can leave your car in absolute safety in our free parking before entering our safe and clean facilities.
In addition to regular dental services for adults and children, we offer a wide range of specialized services in aesthetic dentistry, periodontics, and endodontics. Thanks to the work of our experienced professionals, we are a one-stop shop for all your dental needs.
Our professional personnel will accompany you every step of the way and will make your experience as pleasant as possible. Our patient-centred approach is very much appreciated by our clients, as you can see with the dozens of positive reviews left on Google.
Our Technologies
Centre dentaire Birca firmly believes technology should be considered our friend and best ally in the diagnosis and treatment of our patients. This is why we use the latest imaging technologies, like 100% digital X-rays and an intraoral camera, because we know the best images lead to the best diagnosis and treatment.
Likewise, we adopted the high-quality CEREC system, which is a CAD/CAM technology allowing us to create the best mouth implements for you, totally custom.
The CAD (computer-aided design) part allows us to design your veneer, bridge, implant head or even denture on a computer and to totally customize it so it looks like the rest of your teeth. With this design, we also consider the basis on which the implant will be fixed.
The CAM (computer-aided manufacturing) part is when a machine creates our design in 3D so it can be placed inside your mouth.
Our Specialized Services
In addition to common dentistry services, Centre dentaire Birca is a highly specialized centre offering you a wide array of specialized treatments and surgeries. We offer you different treatments of periodontics (related to gums and their underlying bone structure) and endodontics (like the infamous root canal treatment).
In this article, we will focus on the cosmetic dentistry services. Cosmetic services in dentistry mean all that is visible from the outside of your mouth, what your friends, family and colleagues will see. That covers a wide range of services; some are more superficial, like teeth whitening, while others are much more complicated and involve some form of surgery. Let us take a look further at some of those cosmetic treatments we offer.
One of the treatments that has grown in popularity these past few years is teeth whitening. This is to return your teeth to their original shine and whiteness. That whiteness may have been lost over the years because of some habit of yours (like smoking, drinking coffee or wine, etc.). Once the cause of the loss has been identified and your mouth condition has been analyzed (like pH, general health condition, etc.), our dentists will be able to recommend to you the best teeth-whitening process for your mouth. Another relatively superficial treatment is the use of a veneer to hide the defects of a tooth.
Other branches of cosmetic dentistry are more invasive. For example, orthodontics specializes in straightening the teeth ("ortho" is a Greek prefix meaning "right"). The most visible treatment of orthodontics is the famous braces to slowly realign teeth. In some cases, some surgery is needed to go deeper and correct badly positioned bones.
There are also prosthodontics in which a missing tooth is replaced by a bridge or an implant, for example, to restore the look and functionality of a missing tooth, while returning the appearance of a normal dentition. That treatment can lead to a denture, replacing all teeth. This could be done for just one set of teeth (superior or inferior), or both parts at the same time. Dentures can be free-standing (just resting on gums) or anchored through implants.
As you can see, cosmetic dentistry covers many topics and specialties.
Last Word
To summarize, Centre dentaire Birca is here to assist you at any time of the day through its emergency number. Moreover, we are a dental center capable of treating serious conditions. In addition to our regular dentistry services, we also offer specialized treatments in aesthetic dentistry, periodontics, and endodontics.
Contact us today to schedule your next appointment and discuss your dental needs with our qualified staff.