Orthodontics
Orthodontics in Laval
Our general dentists also offer orthodontic services
Orthodontics consists of diagnosing and correcting malpositioned jaws or teeth, as well as undesirable jaw relations, otherwise known as « malocclusions »
It aims to prevent and treat malocclusions in children, teenagers, and even in adults. Unsatisfactory esthetics is not the only problem that may be caused by malocclusion. They may also cause functional problems and problems with the articulation (TMJ). Malocclusions may also complicate oral hygiene, which can lead to cavities and other oral problems.
Orthodontics aims to give the patient a beautiful smile with nice, straight teeth and contribute to a harmonious dento-facial relationship. It may also help reduce psychosocial problems attributed to "bad teeth" such as a low self-esteem.
Orthodontics
Orthodontic treatments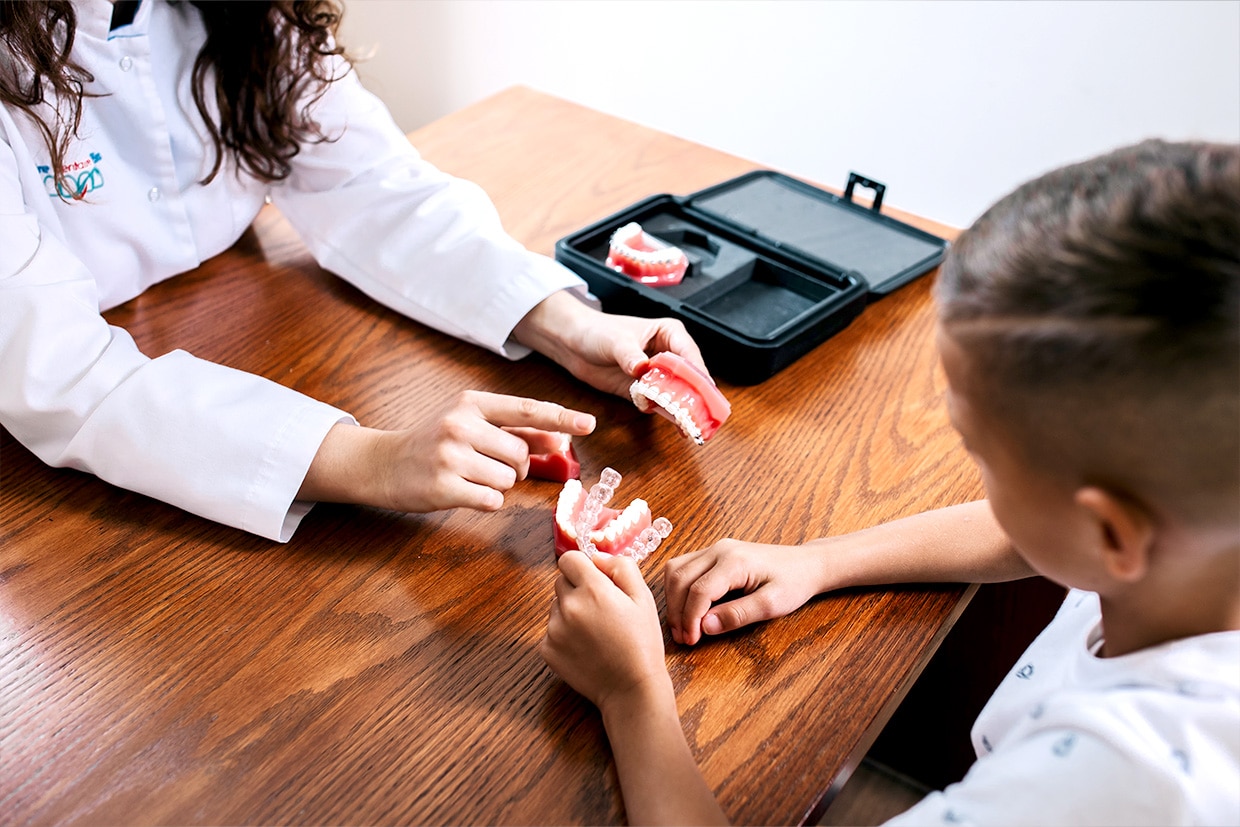 It is preferable to begin orthodontic treatment at a young age. During growth, we may take advantage of the forces of growth, thus resulting in a lower biological and monetary cost.
Treatment may vary depending on the patient's diagnosis, age, as well as their expectations. At Centre dentaire Birca, patients may benefit from simple treatments such as palate expanders or the correction of a cross-bite with a removable apparatus. If necessary, we may move onto more complex treatments, such as the placement of metal or ceramic brackets. Ceramic brackets are less visible and are therefore more esthetic. Another option is AlignTechnology's invisible aligners called Invisalign. Invisalign is becoming more and more popular in the world of orthodontics, as well as in our dental office.
Orthodontics
Invisalign
AlignTechnology (USA) offers innovative orthodontic treatment with their invisible aligners. Invisalign is becoming more and more popular in the world of orthodontics, as well as in our dental office. Their transparent aligners are worn for 22 out of 24 hours every day (they are removed to eat). They are comfortable, esthetic, and efficient. In a world where computers and phones are becoming wireless, this too is a "wireless" option.
Patients are encouraged to come in for an orthodontic consultation in order to receive all the necessary information to pose an initial diagnosis (extra- and intra-oral exam, photos, study models, radiographs). The following appointment would be dedicated to present the proposed treatment plan and discuss duration and cost of the proposed plan. Since each treatment plan is personalized, the duration and cost depends on how complex the treatment will be.
Last Word
Do not hesitate to contact us today to see how our specialists can help you improve your life.